Meets: Monthly
Location: Texas City-La Marque Chamber of Commerce & Other Locations as Determined
Council: Dane Grissom, DBG Services; Brittany Rivers, GCH; Jordan Kleinecke, Moore Industries; Kourtney Fanucchi, Anchored Real Estate; Charlie Mascorro, AMOCO Federal Credit Union
Staff in Charge: Marielle Mascorro, Director of Communications
The goal of the TC-LM Chamber of Commerce Young Professionals is to engage our future leaders in the business community. This program provides opportunities to make business connections, learn from the business men and women who came before them and see the value and purpose of the Chamber. A variety of networking and business/personal development events are held throughout the year.
Open to people who work in the area ages 21 to 45. Monthly events include luncheons with mentors/speakers, after-hours social events, and volunteer service opportunities.
For more information or questions about volunteer opportunities, contact: marielle@TCLMchamber.com.
Bayou Fest in La Marque - October 21, 2023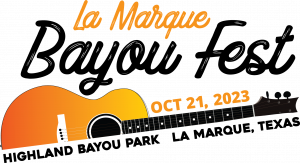 This family-friendly live music festival is held the second Saturday in October at Mac MacGaffey Highland Bayou Park in La Marque. There is a huge barbecue cook-off, free children's activities including a fishing tournament, mutton bustin' and pumpkin carving/decorating. There are several live music concerts in the afternoon and evening. Plus crafts vendors, festival food trucks, bounce houses and fireworks! Bayou Fest is fun for all ages!