Annual Membership Gala - January 20, 2022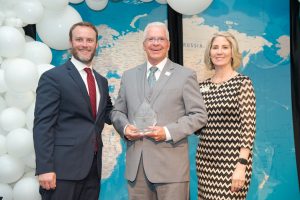 The Chamber's 2022 "Annual Membership Meeting & Gala" will be hosted at the Doyle Convention Center in Texas City on Thursday, January 20.
The theme will be "Jewel of the Nile" as we salute outgoing chairwoman Georgia Meyer Barzilay, co-owner of Karat Creations Jewelry.
The Board of Directors and staff of the Texas City–La Marque Chamber invite all members and community partners to celebrate on this adventure-filled night with colleagues and friends, delicious food and drinks, festive entertainment and prestigious awards.
At this year's event, the outgoing Chair of the Board, Georgia Barzilay, will pass the gavel to the 2022 Chair, Ron Assad of Gallant Builders/Gallant Industrial.
The banquet program includes the installation of new Chamber officers and directors, as well as naming the Outstanding Citizen of the Year, Small Business of the Year, Large Business of the Year and the Jimmy Hayley Community Service Award winners. 
TC-LM Chamber Award Winners History 2001-Present
Industrial Trade Show - April 2022 (date TBA)

This annual Industrial Trade Show is where deals are made!  Held at the Doyle Convention Center, there will be over 80 vendors and approximately 600 attendees. It provides a great day for business connections an network building.
Community-Wide Shrimp Boil & Dance - August 19, 2022

This is a huge tradition in Texas City! The annual Shrimp Boil & Dance is held in mid-August on a Friday evening at the Nessler Park/Rotary Pavilion.  Hundreds of people gather to say good-bye to Summer and welcome the beginning of Fall.
The 2021 Shrimp Boil Sponsors included: Del Papa Distributing, Dow, Marathon, AMOCO, Dunn Heat Exchangers, Valero, Texas First Bank, City of Texas City and Eastman.  A very special thank you to Associated Credit Union of Texas for the awesome outdoor Children's Activity area!!
Bayou Fest in La Marque - October 15, 2022 
This family-friendly live music festival is held the second Saturday in October at Mac MacGaffey Highland Bayou Park in La Marque.  There is a huge barbecue cook-off (the third leg in Galveston County's Triple Crown competition!). There are free children's activities including a fishing tournament, mutton bustin' and pumpkin carving/decorating. There are several live music concerts in the afternoon and evening. Plus crafts vendors, festival food trucks, bounce houses and fireworks! Bayou Fest is fun for all ages!
Full details about 2022 Signature Events...COMING SOON!