What does the Chamber do?
 The Chamber works year-round on...
Business & Legislative Advocacy.
The Chamber is the "voice of business" for the community, representating the interests of over 750+ members at the local, state and federal levels.
Programs & Events.
The Chamber hosts more than 30 events throughout the year with business education topics, network building opportunities, and community involvement activities.
Marketing & Visibility.
The Chamber is essentially a marketing agency, offering high-impact low-cost ways to get your name out and build your brand in this unique community.
Access to Information.
Stay in the loop with weekly Chamber emails and community alerts and remain aware of local happenings and opportunities.
Leadership Development
The Chamber hosts the regionally renowned "Leadership Mainland" program every year for up-and-coming leaders. This programs allows you to invest in yourself, or key employees, to become steeped in community awareness and personal growth.
What are the benefits of Chamber membership?
Visibility
Stand out and get noticed in the community with your listings in the Online Business Directory, the annually-printed Community Guide/Business Directory, social media posts, videos, and blasts (mass emails to thousands of opinion leaders in the region).
Credibility
Raise your business' reputation through Chamber membership.
Network Building
It's not just who you know, it's who others know! Take advantage of numerous opportunities to meet other business leaders at Chamber events.
Life-long Learning
The Chamber hosts numerous workshops during the year on a variety of topics to build your professional knowledge and/or your employees'. Topics range from technology and social media to HR and small business management.
Voice
Gain a say in what happens in the community and local government through the Chamber's advocacy efforts.
Increased Business
According to the Schapiro Study, people are 63% more likely to purchase goods and services from a company that is a Chamber member business.
Workforce Development
Invest in your employees and develop their knowledge and influence. By being a Chamber member, your employees will have on-going options to build their networks and further their leadership skills and abilities, making them more valuable to your company.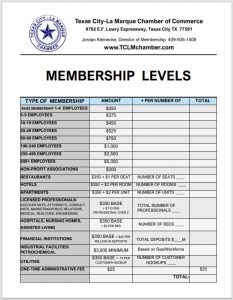 Want to see if joining the Chamber is for you? Take a short survey about key benefits for your business.

If you're ready, you can activate your Chamber membership by clicking the button below.

For more information, contact:
Director of Membership
Bianca Jenson
409-935-1408
bianca@tclmchamber.com